Robotic systems for packaging machines
Innovative robotic applications in packaging processes
Zambelli Packaging is an Italian company – established in 1969 – that deals with the design and production of innovative, state-of-the-art packaging machines. The company also provides robotic systems and applications for different kind of highly precise jobs, like the insertion of small objects in packaging or handling small containers.
Choosing Zambelli for your packaging machines
Zambelli is a leading company in the packaging field, and its technologies and innovative systems are well-known worldwide. This constant search for new systems is possible thanks to Zambelli continuous commitment in satisfying every customer's need. This care for innovation has allowed the company to develop robotic systems that can be used in many different sectors. They can be used, for example, in the packaging of small bottles like the ones used in food industry for spices and flavorings. Robotics systems and pick&place technology make these products easy to be handled in complete safety. These systems ensure advantages such as:
Footprint reduction;
High performance, reliability and efficiency;
Reduction in waste of packaging material;
Great precision and safety in handling also small objects;
Only in wraparound box, tray + film or tray only.
Many applications for robotics systems
Robotized machines are particularly suitable for processes that require maximum precision and attention. These processes usually include the insertion of gadgets and objects inside traditional packages or the handling of fragile, unstable packaging. Machines produced by Zambelli are state-of-the-art technology well known worldwide as the result of continuous research. Among many applications we can find: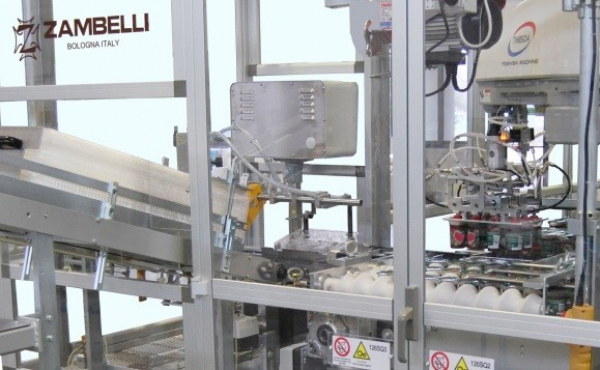 More information about robotic systems
If you need further information about Zambelli's robotic systems for packaging machines don't hesitate to contact us by filling in the form in the contact section with all your questions and requests. An expert member of our staff will promptly answer as fully as possible.